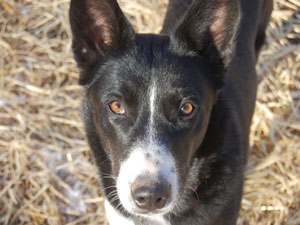 Age: 8 Months
Sex: Female
Size: Average
Congratulations Gabbi!!!
Gabbi is an 8 month old Border Collie/Siberian Husky that lives up to her name! This girl loves everyone and isn't shy about it. Unfortunately her family felt they could not give her the attention she deserved and wanted the best for this pup.
Gabbi is full of energy! She plays nicely with other dogs and everyone she meets is her new best friend. She is a smart girl ~ she knows sit, paw and down. She just loves belly rubs!
Gabbi is very much a puppy, full of energy and curiosity. Her perfect home will be with a family who will continue with her basic commands and manners, so she will grow to be a wonderful companion. Patience and a sense of humor is a plus!
Gabbi will do best in an active home with another energetic canine playmate. She is a wonderful pup with lots of potential to be someone's new best friend.