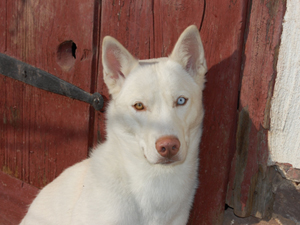 Age: 13 Months
Sex: Female
Size: Average
Congratulations Roxie!!!
Roxie is a 13-month all white Siberian Husky puppy that is guaranteed to capture your heart! This bi-eyed beauty (one brown eye and one blue eye) is full of energy and curious of everything around her. She is thin, as many young huskies are, and will gradually gain weight with a good nutritious diet.
Roxie loves to play, play, play! She is wonderful with other dogs her size or larger. She can be a little shy at first, but it doesn't take long for her to come out of her shell! True to her breed, she is a digger and caution is needed to make sure she is in a secure, fenced area to keep her safe and sound.
Roxie is all puppy and is a diamond in the rough. She is learning her basic commands, she knows sit and paw. She is very excited when walked and needs someone patient that will work with her with her leash skills.
A good home for Roxie would be one that has another energetic dog for her to play with and someone that will concentrate on helping her grow and become a wonderful companion. Sibe experience is a plus.