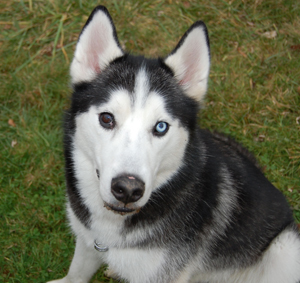 Age: 2 Years
Sex: Male
Size: Average
Congratulations Maverick!!!
Maverick is a 2 year old black and white Siberian Husky with mischievous blue eyes and a happy-go-lucky smile. This guy still has a lot of puppy in him. Maverick loves fun and games with the other dogs in his foster home. Once game time has ended, he is ready for some quality time with his humans.
Maverick is housebroken and trustworthy in the house. He is crate trained and will sleep and relax in his crate even when it is open. He has a lot of energy at his young age and will need an active companion (human or canine) to get him the exercise he needs.
Maverick has had several homes in his short life and now needs the stability of a forever home that will help him become a wonderful companion and canine citizen. He is a smart boy who has learned basic commands rather quickly.