Good evening All ~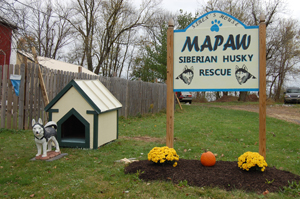 Well, "Super Storm Sandy" made her presence known on Monday. She brought high winds and lots of rain. We were very lucky and the Farm only sustained some minor damage that is easy to repair.
Our volunteers were busy again this weekend…
Linda painted Siren's doghouse, which is situated next to our sign at the entrance to the property. The doghouse has been painted to match the kennel building. It looks amazing!
Volunteers, Matt and Danielle, stopped by to lend a hand to finish some of the projects on our to-do list.
We are waiting on final approval by the inspector so that the electric company can "flip the switch". The electrical outlets are all in place. The Heating/Air Conditioning unit and hot water heater are installed and both are waiting to be hooked up.
The drywall has been completed on the interior walls and the spackling is underway to prep the walls for paint. The bathroom, utility/supply closet and office walls are all up.
The interior floors need to be sealed, but that will be one of the last items to be completed.
We're getting so close!
Thanks to Linda, Pete, Matt and Danielle for braving the cold and helping us out this weekend!
~ Scout