Good evening Puppers ~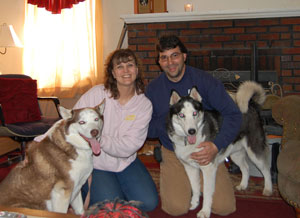 After 1 year and 4 months, our Ozzie has finally found his forever home!
When Ozzie joined MaPaw, he was a typical young Husky ~ full of energy and definitely full of himself… He soon found comfort in his routine and matured a bit. Have you ever seen a Husky jump onto the kitchen counter with hardly any effort ~ like a cat? That's Ozzie!
Ozzie has found the perfect home with humans that will love him and a sibeling to spend his time with! Congratulations to Ozzie and his family!
Ozzie joined his forever home on March 9th.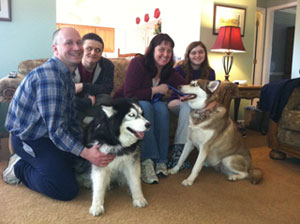 Our second lucky pup is Zelda. She found her way to MaPaw after she lost her family. When she first joined us, she seemed sad like she was missing something. She soon warmed up to her foster home and her true personality began to show through. She became a wonderful companion to her humans and her canine housemates.
Zelda may have lost her first family, but she has now found the perfect family to share the rest of her life with. Even better ~ she has a sibeling, sister Tasha! Congratulations to Zelda and her family!
Zelda joined her forever home on March 11th.
We are so happy for Ozzie and Zelda and their families! We look forward to many photos and updates…
Did you notice that both MaPaw pups (black & white) were adopted to families with red & white sibelings? Hmmm….
~ Scout