Good evening Puppers ~
When Trudi first joined MaPaw, she was an unbelievable 107 pounds! This poor gal could hardly move and she just seemed so uncomfortable. A visit to the vet and blood work confirmed that Trudi was hypothyroid.
With the help of medication and a strict diet, Trudi soon started shedding the pounds (along with some Husky hair, of course). She was clearly feeling better and soon her true personality started to shine through. She was finally able to play along with her canine housemates.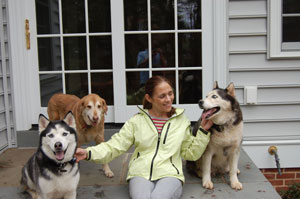 After suffering the loss of their Husky, a friend of MaPaw contacted us to find a companion for their Husky who was mourning the loss of his sibeling. Trudi had waited patiently for months to find the perfect home. Finally… a perfect match! She has Max to play and run with, Goldie to relax and nap with and humans to spoil her! We know that Trudi will be well taken care of and loved.
We look forward to many updates and photos…
Congratulations Trudi!!!
Trudi joined her forever home on March 24, 2012.
~ Scout