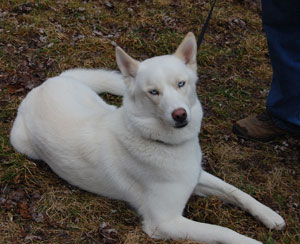 Age: 2 Years
Sex: Male
Size: Average
Congratulations Rehnquist!!!
Rehnquist is a very handsome 2 year old male Siberian that is sure to make you smile! His family had a new baby who developed allergies to Rehnquist and, unfortunately, Rehnquist has to find another home.
Rehnquist is good with kids and other dogs. He is housebroken and crate trained and is medium energy. He loves car rides and walks ~ he walks twice a day and is good on the leash. Of course, being a Siberian, Rehnquist loves to run and he must be inside, in a secure fenced area or on leash at all times.
He is a smart boy ~ he knows "sit", "shake", "crawl" and "touch" (he touches your closed hand for the hidden treats). He loves to play tug of war and will bring his toy to you with an invitation to play.
Rehnquist is an all-around great dog with a terrific personality. He would love to have a canine companion to play with and a family he can love.
[smooth=id:160;]