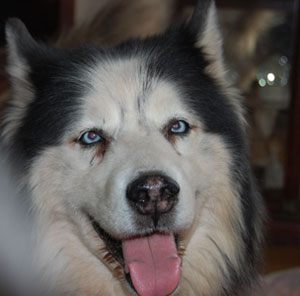 Age: Approximately 10 Years
Sex: Male
Size: Average
Congratulations Bear!!!
Bear is a stunning long-hair (wooly) husky who has a very sad story. His owner lost his home and abandoned Bear in the house. Concerned people contacted the authorities and they rescued Bear. Bear has been released to MaPaw and we are really enjoying this guy!
Bear is approximately ten years, though he seems much younger. He loves to play with the other dogs and gets along with everyone. After a good play session, Bear is content to relax near you. He loves to sleep at your feet and quietly snore. He does like to be close to people, no doubt from being left alone in an empty house.
Bear's perfect home would be someone that can re-assure him in the beginning until he settles in and realizes he won't be abandoned again. Another dog would be best to show Bear the ropes and to play with him. When put in a new environment, Bear will bark and fuss a bit if put in a crate.
This boy has had hard times and needs a new home with lots of TLC! Bear made instant friends with all of us at MaPaw and we see what a wonderful dog he is ~ he just needs to know that he is loved again.
[smooth=id:159;]