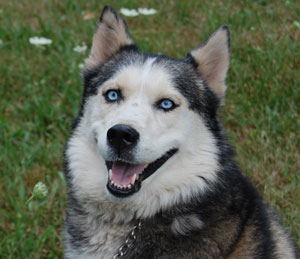 Age: Approximately 5 Years
Sex: Male
Size: Average
Congratulations Deacon!!!
Deacon is a handsome, friendly  gentleman who is looking for the perfect home. This fluffy guy loves to be pet and will lie contently while you tell him about your day. Belly rubs are a bonus! He's happiest when he's with you and is supervising whatever you happen to be doing at the moment. One of his greatest skills is being a foot warmer underneath your desk where he waits patiently for you to finish so that he can join you on the sofa.
Despite his laid back personality, Deacon is very selective about the canine company he keeps and tends to be a little grumbly around children. His ideal home would be adults only – no children or other animals. He will require a 6 foot fence (no invisible fences) since he can easily leap over gates and lower fences.
Deacon loves to go on walks and is probably one of the easiest Siberians we've walked on lead. He prefers to take his time and enjoy the view and cheerfully greets passersby that admire him. He is crate trained, trustworthy in the house and behaves nicely at the vet. Deacon would thrive with an adult, dog savvy family that respects him for who he is and will understand and appreciate his sometimes complex personality.
[smooth=id:122;]