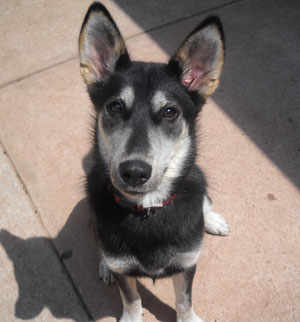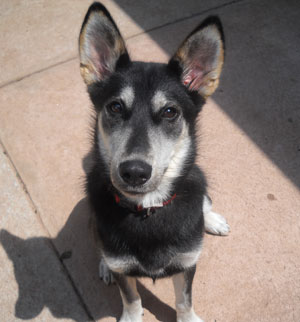 Age: 7 Months
Sex: Male
Size: Average
Congratulations Colt!!!
Click here to check out my video on YouTube!
Colt is a handsome Siberian Husky/German Shepherd puppy that is full of life and love. This seven month old is full of puppy energy and he is out to explore and investigate everything and everyone he meets.
Colt is a good puppy that is housebroken and crate trained. He is a smart boy ~ he is so proud that he knows "sit"! He loves to play with other dogs, which is a great outlet for his non-stop energy.
Colt has been in several homes during his young life with several names, but he quickly warms up to people especially when a welcoming lap is involved. He can frighten easily but quickly overcomes any fears. Colt will need to go to a home with a lot of time and patience to devote to his training. He will also need another active playmate to keep him occupied and out of mischief.
If you are a sibe/dog-savvy person that is willing to dedicate yourself to the training and care of Colt and you have another active canine playmate to keep him company, please contact us to learn more about this boy and to consider becoming his final forever home.
[smooth=id:116;]