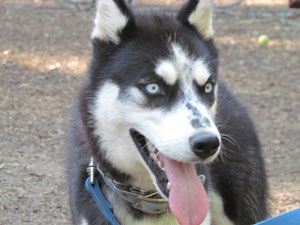 Age: 1 – 2 Years
Sex: Male
Size: On the Smaller Side
Congratulations Dash!!!
Dash is a one to two-year-old male Siberian Husky with a black and white coat, penetrating blue eyes and irresistible freckles on his nose. He somehow lost his way and sadly his family never found him.
We aren't sure of Dash's past, however, he was very frightened and cowered in his run at the shelter. This little boy needed some help from a few friends and we welcomed him into rescue with open arms and hearts.
Dash's foster Dad provided much needed TLC and slowly gained Dash's confidence as he came out of his shell. He is enjoying his foster sibelings and going to the dog park. Dash is now ready to start his search for a forever home where he can continue to blossom into a loving companion ~ are you looking for a new best friend?
[smooth=id:115;]