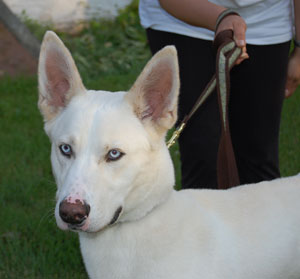 Age: 1 – 2 Years
Sex: Male
Size: Large
Congratulations Aspen!!!
Click here to check out my video on YouTube!
Aspen is a very handsome all-white young male estimated to be 1 – 2 years who was found as a stray. Our best guess is he is a mix of Siberian Husky/Great Dane and perhaps some German Shepherd thrown in for good measure.
Aspen was being cared for by our friends at a local shelter, however, he was frightened and depressed in the shelter environment. Both the shelter and MaPaw became increasingly worried about his depression and weight loss.
Aspen is definitely a "people-dog" and wants to be close to his foster family and loves to sack out on the couch. He is gaining some much-needed weight and enjoying his new status as a V.I.P. (very important pup). Now Aspen just needs a family to call his own to love.
Aspen would do best in a home with no small children. Since Aspen is particular about his canine friends, he would do best as an only dog or perhaps with a female canine housemate.
[smooth=id:113;]