Good evening Puppers –
Over the weekend, I got to visit Ben and see for myself just how well he is doing. He is amazing!!! It has been almost 3 weeks since Ben's surgery and he's already managed to find his way upstairs to share his foster parents' bed!
He loves his coat (thanks Diane!), which keeps him warm in this chilly husky weather. While he is a husky/shepherd mix, he doesn't seem to possess the husky love of cold and snow. In fact, he knows exactly where all of the heat registers are in the house and isn't shy about blocking everyone else out while he hogs all the warm air for himself.
Ben is back to being the happy pup we brought into MaPaw 2 years ago. He loves the company of anyone that stops by to visit and is quite vocal about his need for pets and hugs. And he really enjoys the company of the other pups in his pack. Here's a photo of Callie stopping in to check on Ben after his nap.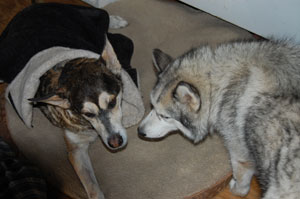 Way to go Ben!!!
~ Chloe