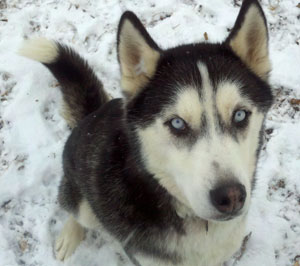 Age: 6 Years
Sex: Male
Size: Average
Congratulations TJ!!!
Click here to check out my video on YouTube!
TJ is a sad statistic of our economic times: his family was moving and they just couldn't take him with them. Like so many dogs, poor TJ found himself at the shelter. The shelter realized just how special this boy is and contacted us to see if we could give him a much needed second chance.
This devilishly handsome husky is a show stopper – a classic black and white, blue eyed boy. The shelter told us he was 6 years old, but don't let his age fool you ~ he's more like 6 months! TJ doesn't have any plans that include lounging around the house ~ this boy wants to go go go!
Due to his high energy level, TJ would excel in an active home as a running/hiking partner or a multi-dog household where he would have canine playmates. In addition, TJ is a very affectionate boy that just craves human attention and affection, so a home that could give him a lot of human interaction would also be a plus.
If you are looking for a fun loving, active boy…TJ is definitely the boy for you!!!
[smooth=id:86;]