Hello Puppers ~
Can you believe that there are only 12 more days until Christmas??? Have you finished your shopping yet? Don't forget MaPaw has lots of great things to give for the holidays this year ~ our 2011 calendar, cookbooks, t-shirts and so much more!
We've been busy decorating the farm for the holidays and finally Siren has found her place on the farm ~ complete with a beautiful wreath. Perfectly positioned to greet our visitors, Siren looks as regal in front of her house as she did in life (thanks to Deb!!!).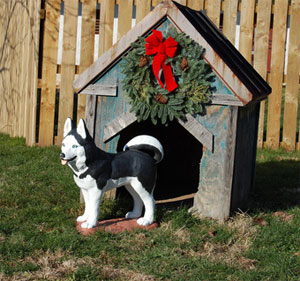 A couple of weeks ago we hosted Santa at the farm for photos with our canine friends. Unfortunately, Ben wasn't quite feeling up to the walk to visit with Santa. Luckily, Santa was willing to make a return trip to the farm to visit with Ben and have a chat.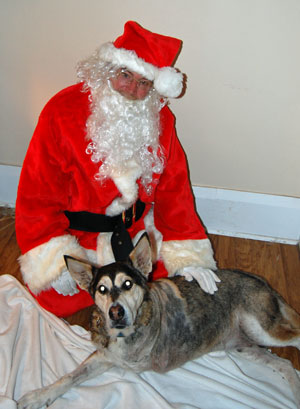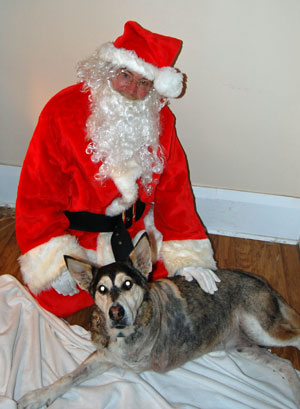 Ben made sure to tell Santa how happy he was to be part of such a wonderful (and big) family like MaPaw. Ben really enjoyed his visit with Santa and even tried to get in his lap a few times for some pets and a hug or two. True to his nature, Ben's only wish for Christmas was that other homeless pups find their way to MaPaw for their well-deserved second chance at happiness. And after some pleading from the resident Huskies, Ben reluctantly also asked Santa to send some snow…
~ Chloe