Hello Puppers ~
On Friday (October 29th), Joshua and Samson loaded up in the car for a life changing ride. They had no idea where they were going, but these boys couldn't wait to get on the road.
Joshua spent the first part of the ride trying to get in the front seat with my Mum. Here's a photo of him trying to snuggle his way up to the front. Mum tried to tell him that he wasn't a lap dog, but he didn't want to hear it.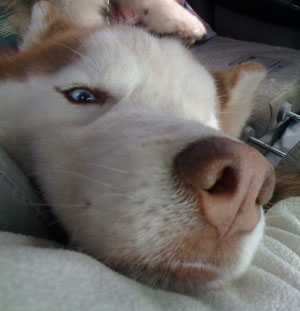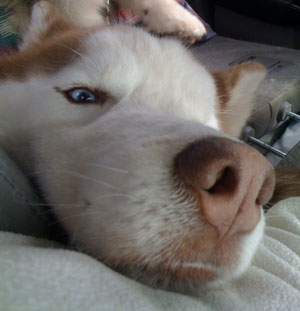 Samson was busy watching the road behind us. He spent the first part of the ride counting cars and making faces at the cars behind him.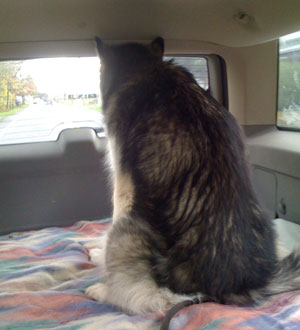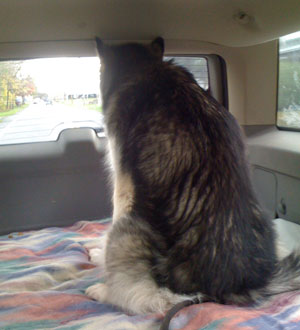 When the boys realized that this wasn't any quick ride to the store, they finally settled in and got comfortable. Joshua started out sleeping on the floor behind the front seats, but when it was time to change positions he decided to sleep on the arm of Kathy's seat. Mum said he was even snoring!!!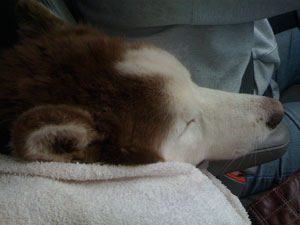 Samson finally gave up his watch out the back window and decided to curl up for a nice nap as they hit the highway.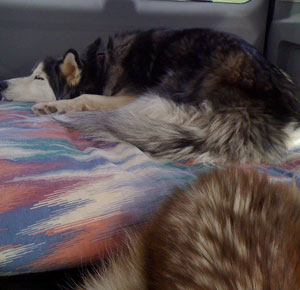 Just 2 hours later, the boys met their new family. Their new Mom and Dad couldn't wait to meet the boys and the boys were just as happy to meet them. They took a stroll around their big yard (fenced in, of course) and quickly made themselves at home inside. After investigating the house, Joshua curled up in front of the sliding glass door for a nap and Samson was happy to lay around for belly rubs.
We are so happy for Josh and Samson! They went through a lot to get to MaPaw and are now set to be spoiled for the rest of their lives.
~ Chloe