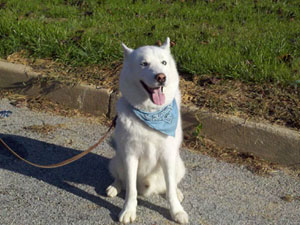 Age: Approximately 6 – 7 Years
Sex: Male
Size: Average
Congratulations Jack!!!
Click here to check out my video on YouTube!
Jack is a handsome, big all-white Siberian with beautiful baby blue eyes estimated to be six or seven years old. (He came in as ten, however, the vet feels he is much younger). Jack's history is a bit of a mystery and his exact age is unknown since the poor boy was found abandoned and tied up to a pole.
Jack is a lover; he wants to be around people and he just loves to be petted. He would be completely happy in a home without other dogs where he could receive all the attention. He can have his guard up with other dogs he meets and would be best as an only dog. He is a sweet and gentle soul who lives to go for lively walks. When he suspects a walk is in his near future he howls and does the happy dance in excitement.
Jack is well past the puppy destructive stage, he is housebroken and trustworthy, well behaved and doesn't chew. He is a wonderful "people-dog" and is looking for a companion to share good times with and a home to call his own.
If you are looking for a new best friend and walking companion to keep you fit, please ask us about Jack, we would love to tell you more!
[smooth=id:45;]