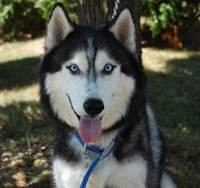 Age: Approximately 4 – 5 Years
Sex: Male
Size: Average
Congratulations Jack!!!
Jack is a four to five year old handsome husky who apparently lost his way when frightened by the noise and the fireworks on Fourth of July (2009). We cannot imagine losing such a wonderful boy, but no one has come forward to claim him and he is ready to find a forever home and start his second leash on life.
Jack is a friendly boy who likes affection. He gets along quite well with the other dogs in the home and would do well in a home with another large dog (no cats please). He is not food or toy aggressive and lets his foster mom brush him quite easily (always a good quality in a Siberian!).
Jack is absolutely terrified of thunderstorms and loud noises (emergency vehicles, etc.), which is why he found his way to rescue. This boy needs a family that will care for him, protect him and keep him safe and sound.
[smooth=id:44;]