Hello Puppers ~
I'd like to introduce you to Maxie. Her story is a sad one that has taken a turn for the better (way way better).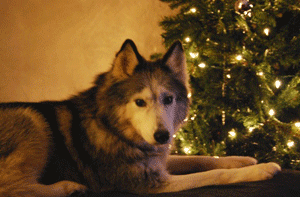 While we were only contacted a couple of days ago about Maxie, she had been at the shelter since October! Apparently, the home she was living in went into foreclosure. One day without warning, her family just picked up and left…without Maxie!
Luckily for her, a neighbor noticed that poor Maxie had been left behind and took her to the shelter. The shelter cared for her, but they knew that her chances of being adopted were slim because of her age. Can you guess how old she is? Can you believe that this beauty is 14 years old????
When we heard her story, we knew that we had to make room for her. We put an emergency plea out to our volunteers and several stepped forward to get this girl in a home for the holidays. Soon this little lady was on her way to her foster home. We are told by her foster Mum that she is a peanut and so full of love to give. At 14, she was eager to play with the other pups in her foster home. She just joined her foster home last night, so she is settling in and is very happy to be a part of a family again.
Welcome Maxie and thank you to everyone who helped get this gal into a home for the howlidays!!!
BTW ~ just in case I don't get a chance to post again before the holidays… We hope everyone has a wonderful holiday!!!
~ Chloe