Hey Puppers ~
It's been a bit since I last wrote ~ sorry about that. I've been busy with my holiday shopping…
Remember Rio ~ the pup I wrote about in my last post? Last weekend, my Mum's sister and her husband adopted him! It took them not even 2 minutes to fall in love with him! He is so cute and such a good boy ~ how could they not?? His new name is Miles and he's certainly enjoying his life as a spoiled pup!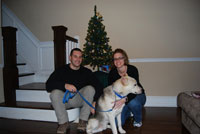 He's coming to visit us tomorrow and I can't wait to meet him!
BTW ~ we have some new pups coming in. Hopefully I'll be posting about them in the next couple of days…
~ Chloe