Good evening Puppers ~
We at MaPaw hope that you all had a wonderful Thanksgiving howliday with your families! We have 2 more reasons to be thankful this week.
On Wednesday evening, Rio joined his new foster family. He had been found as a stray and waited patiently for his family to come to the shelter to take him home before the howlidays. Nobody ever came to pick him up and he wanted nothing more than to be in a house for Thanksgiving. Luckily, one of our foster homes stepped forward and Rio was soon on his way. He is settling in and getting to know his new routine.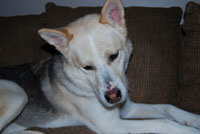 We are getting to know this handsome fella, so please check out www.sibes.com soon for updates on Rio!
On Friday, some of our brave volunteers fought against Black Friday shopping traffic to bring another pup to her foster family. You may have seen the news stories about the 100 sled dogs removed from a Canadian home earlier this month. Papillon is 1 of those many pups!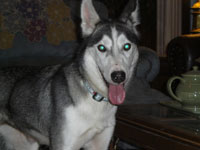 Check out those ears! She is estimated to be about a year old. She is a friendly, petite gal. She seems to be settling in well at her foster home. She gets along with her foster siblings and enjoys being petted.
If you check out her video, you can see that she certainly enjoys the comfort of the sofa!
Please check out www.sibes.com for updates on Papillon as we get to know her!
~ Chloe