Good evening Puppers ~
As you may know, November is Adopt-A-Senior-Pet month. We couldn't think of a better way to celebrate than dedicating an entire weekend to our beloved seniors!
The weekend started on Friday the 13th with Triska. This 13-year old beauty had been brought to the shelter as a stray and paced her kennel looking for her family. Unfortunately, nobody ever came forward to take this gal home. She clearly wasn't comfortable at the shelter and seemed quite anxious, so the shelter quickly contacted MaPaw for assistance. Tom and Ann stepped forwarded and were soon on their way to pick her up. She was slowly becoming more comfortable in her new surroundings ~ she was clearly enjoying all of the TLC she was being showered with by Tom and Ann.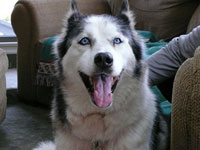 On Sunday, Triska had 2 seizures. She was taken to University of Penn and after some testing, she was sent home. Soon after they arrived home, she had another seizure. Back to University of Penn they went ~ this time she was kept overnight. She's back home now and is on medication to help control the seizures. She's doing better now and we are so very grateful to Tom and Ann for their dedication to Triska. Please send Sibe Vibes to Triska!!
---
On Saturday, Rosie said goodbye to her Mum and made her way to her new furever home. Rosie had lived much of her 7 years outside due to the age and health of her owners. Although it broke her Mum's heart, she wanted Rosie to be part of a family where she could spend her days inside on a warm, soft bed. With tears in her eyes, she said her goodbyes and gave Rosie a soft kiss on the top of her head.
Mary and her Mother were so excited to finally meet Rosie! They had looked at her photos on the site, had read her bio and had talked to Deb (the MaPaw member that had been working with Rosie) and anxiously waited for her arrival. It didn't take Rosie long at all to make herself comfortable and everyone was all smiles!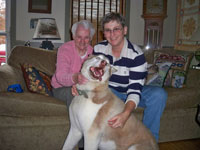 We can't wait for updates!
---
On Sunday, Falcor joined his foster home. He was originally found as a stray and had been at the shelter for a while. The shelter had become concerned about the stiffness Falcor seemed to be experiencing and turned to MaPaw for help. The shelter also told us that he was a bit shy but would warm up after some pets.
Here he is on his way to his foster home.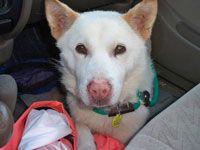 It's hard to tell from this photo, but Falcor is a little peanut! Here's a photo of him with his foster brother, Juno, so you can get an idea of how small he is…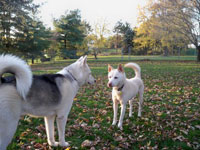 Not only is Falcor small, but he's also very underweight. No need to worry though ~ his foster Mum is going to make sure that this guy puts on the pounds!! He's becoming more comfortable in his new surroundings and is even greeting his foster Mum with wags and a couple kisses! We are so proud of him!
Welcome Triska and Falcor! Congratulations Rosie and her new family!
Be sure to spread the word ~ November is Adopt-A-Senior-Pet Month!!
~ Chloe