Good evening Puppers ~
We just love when we get updates from our pups! And we have some great ones to share with you!
Do you guys remember Halo? He joined MaPaw after he turned up at a shelter as a stray. This poor guy was underweight and filthy. He needed a bath, some good food and a soft bed. Soon after joining his foster family, Halo was ready to begin his search for his furever home. And it didn't take him long to find it! His Mum reports that he is making friends everywhere he goes. Lucky Halo has a dog park where he can go to run off some of his Husky energy! Here's a pic of him with a friend he made at the dog park over the summer…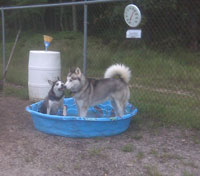 Dakota had been with MaPaw for a long time, which was okay cause he needed a lot of extra TLC. When he came to MaPaw, he was VERY shy and had no confidence. With a lot of patience, love and understanding, Dakota was finally ready to begin his search for a furever home. Even though he had come such a long way, we knew that Dakota would still require a special home that understood his past and were willing to give him the encouragement he needed to feel comfortable in his new home. When Janet and her family contacted us about Dakota, we knew that they would be the perfect home for him! He's settled in and is becoming more comfortable each day thanks to his family and his sibeling, Bianca. Here's a pic of Dakota resting with his Sis..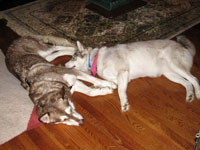 It's been just over a month since Mischa and Casino found their furever home together. Mischa is a 12 year old spunky gal whose Mum had brought her to the Hike N Howl to meet with MaPaw to see if we could help her. Her Mum had to move unexpectedly and had no choice but to board Mischa in hopes of finding another solution. After a year of boarding, Mischa's Mum knew she would do so much better in a home. Although they had applied (and been approved) to adopt Casino, Chris and Ed offered to foster Mischa. Shortly after joining their house, they chose to make theirs her furever home. No need to worry for Casino ~ once Mischa settled in her new home, she got herself one handsome brother! Mischa and Casino are loving life now and their family is loving being a 2-Husky house! Here's pics of them hanging out in their home…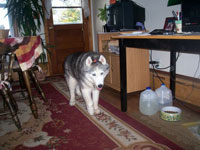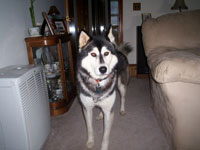 Our last update of the night is Matrix. Matrix was found as a stray and amazingly nobody ever came forward to take him home. He quickly settled into his foster home. Matrix first met his furever family at a meet and greet where it was love at first sight. Recently, Matrix graduated his Beginner Obedience class. He was the first of the class to be tested and he passed with flying colors! Here's a pic of him with his cap…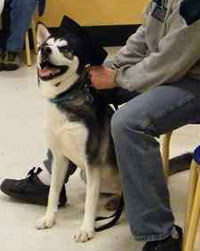 And here's a pic of his diploma…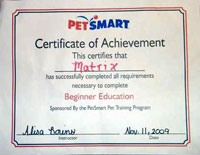 Congratulations Matrix!
We are so proud of all of our alumni and we love to hear what they are up to!
~ Chloe