In honor of Adopt-A-Shelter-Dog Month, I am going to post a happy tail every day of October! I thought the best way to start would be to introduce you to my big brother, Niko.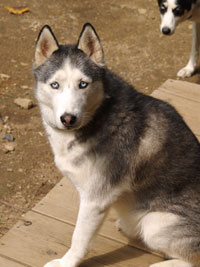 MaPaw first found out about him when a shelter contacted one of our members about him. He had been at the shelter for a couple of days, but they had been trying to catch him for over a week. The shelter had received reports that a Husky had been hit by a car and was limping. When they finally caught him, his front leg was indeed broken and was infected. Even though they had taken him to the vet and had him on antibiotics, there seemed to be no improvement. His owners were contacted and they signed him over to the shelter. The infection worsened and the shelter soon decided that rescue was his last option.
He was quickly picked up by MaPaw and rushed to the vet where it was determined that his leg needed to be amputated in order to save his life. His surgery was done a couple days before Christmas and shortly after he was hopping around the yard, happy to be free of the painful infection that had been poisoning his body.
About a month later, my Mum adopted him.
That was 8 years ago and Niko is now 10 years old. He sometimes trips and falls, but he picks himself right back up and keeps going. He's an awesome brother and I'm glad that MaPaw gave him the 2nd chance that he deserved!
If you'd like to share your shelter/rescue dog happy tail with us, please contact us and we'd love to post it!
BTW – Hike N Howl 2009 is just 8 days away! Join us on October 10th in Tyler State Park for a fun-filled day in the Autumn sun!
~ Chloe