Good evening Puppers ~
It was another busy weekend for MaPaw and lots of good news!!
Let's see ~ where should I start?
Well, I'll start with Blitz's story. Blitz has been with us for a while now, which kinda surprised all of us since he was such a cool, young pup. Now we know it was just because his perfect home was waiting for him. Saturday morning, Blitz's foster Mom packed up the car and they started their 3 hour journey (along with his foster Mom's friend) to meet his new family.
Blitz was so excited, he couldn't contain himself. In fact, he shredded the quilt that was in his crate!! We are told that this quilt had been on many adoptions…unfortunately, it saw its last adoption. So sorry quilt…..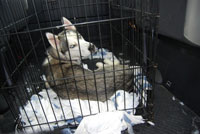 The long ride was definitely worth it. Blitz met his new sibelings ~ Freddie (a MaPaw alum) and Soco. The 3 of them played and played. Christine and Todd could only hold them still long enough to take this photo before they were off and running again!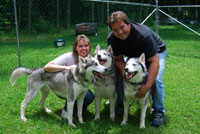 Not to worry ~ the other pups in Blitz's foster home didn't have to wait long until they had a new foster sibeling (but more on that later).
About the same time that Blitz was meeting his new family, Ray was also meeting his new family. Ray now has a new Husky sister named Daisy. We are told that Ray is settling in nicely at his furever home.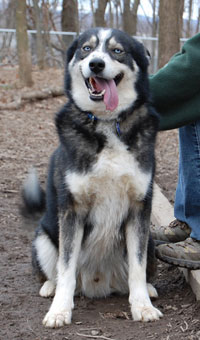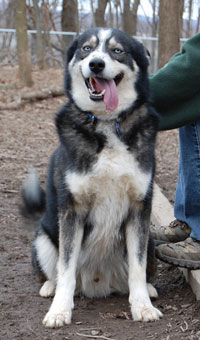 Once Ray's foster Mom and Dad were sure he was comfortable, they said their goodbyes and jumped in the car. However, they weren't on their way home. No, they were on their way to the shelter to spring a young pup who had been patiently waiting for us to have an available spot open up. Weston was so happy to be out of the shelter. In fact, he didn't even mind the bath. Apparently he's not a big fan of being clean since as soon as he was done, he ran to the nearest patch of dirt to make sure he wasn't too clean.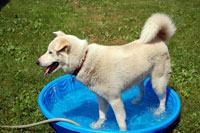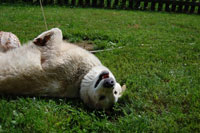 On Sunday, Blitz's former foster Mom welcomed Kye. Kye had actually been pulled from the shelter a week ago, but had been waiting at a temporary foster home until another foster home opened up (Thanks Deb!). Kye is settling into his foster home and getting along great with the other pups.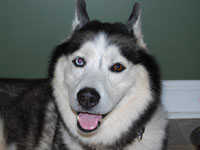 We are so happy for Blitz and Ray ~ both of these boys have been very patiently waiting for their turns to be adopted. We can't wait for photos and updates.
Weston and Kye ~ welcome to the MaPaw family. We look forward to getting to know you both better.
~ Chloe