Good evening Puppers ~
The good news keeps rolling in…..
Cota, our gentle older man that has been with MaPaw for quite some time has officially been adopted! I say officially because his foster family has become his furever family.
Cota just fit in so well with their family ~ it was like he had always been a member of their family. Cota's foster Mom just couldn't bear to think of him having to settle into a new home.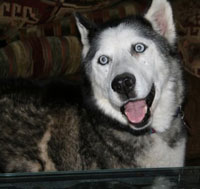 We are so very happy for Cota! He has found a fantastic home to spend his retirement years! Good luck Cota ~ we hope to see photos and updates soon……
~ Chloe
BTW – Cota lives next door to another MaPaw alumni, Tundra.