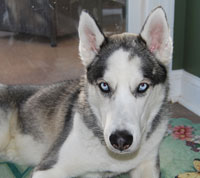 This is Blitz ~
Blitz is a happy-go-lucky, approximately 10 month old, male Siberian husky who is all puppy!!! This young man unfortunately lost his way and ended up in a shelter. But that's all in the past for Blitz.
Check out my video on YouTube!
Click here to learn more about Blitz!