Hello Puppers ~
Did you guys hear that there's a new boy in MaPaw? That's right ~ he joined MaPaw on Monday. This is Blitz ~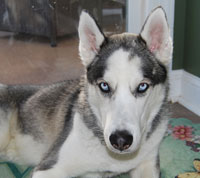 Blitz is only 10 months old and he is a big ball of energy!! He is settling into his foster home and getting along well with his foster siblings. He LOVES to play and play with anyone who will give chase.
We are looking forward to learning more about this adorable pup. Check www.sibes.com/blitz.html for updates on Blitz as we get to know him.
Welcome Blitz!
Woo woo!!
~ Chloe