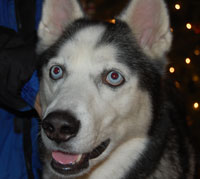 This is Random ~
Random is a young male, black and white Siberian Husky with big baby blue eyes. He obviously was a household pet; he immediately made himself comfortable at his new foster home (loves the bed, likes the couch!). He is good with the other dogs, however, doesn't really play with them and would seem to be very content as an only dog. He absolutely adores people and wants to be near them as much as possible.
Check out my video on YouTube!
Click here to learn more about Random!