On Saturday (3.7), MaPaw got an email about a pair of Sibes in Virginia that managed to get themselves into some trouble. They found themselves in the custody of Animal Control with a very bleak future. Much to the owner's dismay, Animal Control would only release them to a rescue and the rescue could not be in a state next to Virginia. Not sure what to do, the email campaign started and that's when MaPaw got the news.
A foster home stepped forward and everything was set in motion. Now we just needed to find a way to get Luke and Malachai (the Sibes) from Virginia to Pennsylvania…..
We posted to our group to see if anyone had any ideas on how to get them to their new foster home. We were sure that nobody would want to drive all the way to Virginia and back. Boy were we wrong! We had not just 1 person volunteer, but 2 of our awesome volunteers offered to take the trip!!!!
Needless to say, Luke and Malachai's owner was ecstatic that his boys would be saved! He and his family were very sad to see them go, but knew that they would be well taken care of.
Ann and Tom packed up the car and left on their multi-state journey on Tuesday. After seeing pictures of the boys, they couldn't wait to meet them. After their long journey, they were met by 2 smiling Husky faces. Here's Ann and the boys: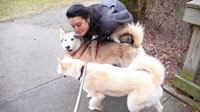 After a quick introduction, walk and potty break ~ they loaded back into the car to start their trek to the boys' foster home.
We are told that Luke and Malachai were very sweet and well-behaved during their road trip. Enjoy some photos of the boys on their ride to a second chance……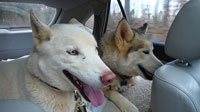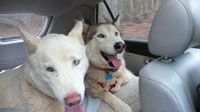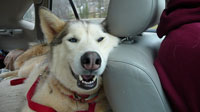 Ann and Tom ~ Thank you so much for making the trip to pick up these 2 and driving them to safety!
Dave E. ~ Thank you for the offer to make the trip. We have you on the books for the next one!!!
The Dezutti Family ~ Thank you for opening your home to these boys to give them the second chance they deserve!
I just LOVE happy endings!
~ Chloe