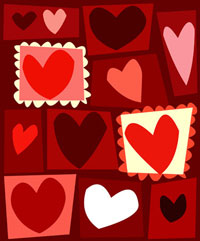 All of my Valentine's Day cards have been signed, sealed with a husky kiss and are on their way to my special someones. I'm sure my Mum has bought us special Valentine's treats to help us celebrate.
This year, I've asked my Mum to send some special treats to my friends at MaPaw too. Although they are in loving foster homes, there's really nothing like having a family to call your own.
When you're out buying your Valentine's Day cards for your loved ones, how about joining me in sending a card to one of the great pups in foster care at MaPaw? It would really brighten up their day to know that you are thinking of them. If you want, you can send a donation in their name, maybe send them a special treat or just a card ~ I'm sure they would really appreciate it.
Right now, these guys are staying with MaPaw's foster families: Maya, Tundra, Phoenix, Renee, Chooey, Cota, Mikayla, Cocoa, Misty, Princess, Snowball, Random, Dakota, Tyco, Van and Callie. If you would like to send any of these sweeties a card and/or gift for Valentine's Day, please send it to the dog's attention c/o MaPaw Siberian Husky Rescue, 134 West Seventh Street, Lansdale, PA 19446.
Hope you have a wonderful Valentine's Day!
~ Chloe