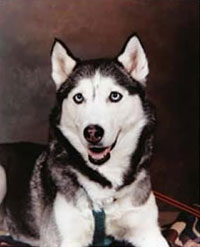 Siren joined MaPaw in 2003. She had been pushed out of a van into someone's yard. As the good samaritan watched the van pull away, Siren crawled under a truck parked in the driveway. She was panting heavily and clearly was not well. Someone must have been looking over Siren that day because the first animal hospital the good samaritan called happened to have a kennel tech that volunteered with MaPaw. Although the kennel tech wasn't working that day, her co-workers knew to call her at home and let her know about this poor pup. While on the phone with the good samaritan, our volunteer could hear poor Siren howling and crying. That's how Siren got her name ~ because she sounded like a fire siren. Within an hour of being dropped off, Siren was at the animal hospital getting the medical care she needed. Once she was feeling better, she was transferred to her foster home.
When Doug had contacted MaPaw, it was almost instantly determined that Siren would be the best fit for Doug's home. Doug needed a special dog and Siren was perfect! In fact, she is now a certified therapy dog and has even received an award of recognition.
Shortly after she joined Doug, it was discovered that she had mammary cancer. Doug stopped at nothing to get her healthy once again. He continued her doctor visits to monitor her health and continuously researched different methods of maintaining her health. Their love for each other is unconditional and is clearly evident when you see them together.
Sadly, it was recently discovered that Siren had another tumor. It was malignant and was surgically removed yesterday. Unfortunately, Doug can not be at her side as he so desperately wants. He can only wait for updates by phone from Siren's temporary caretakers, Dave and Karen. Just after Christmas, Doug fell ill himself and has been in and out of the hospital. He is so concerned for Siren and waits each day to hear how she is doing.
The bond Doug and Siren share is unique. They are both fighters and have already overcome so much in their lives. Please keep Doug and Siren in your thoughts.
Sending Sibe Vibes and well wishes…
~ Chloe