As you may recall, Phoenix was scheduled to have his eye surgery today. We were all waiting to hear word on how his surgery went. Early this afternoon we got great news ~ Phoenix's surgery was done and he was on his way home! His surgery went well and we are told that he was a model patient.
Here's a photo of Phoenix on his way home from the hospital…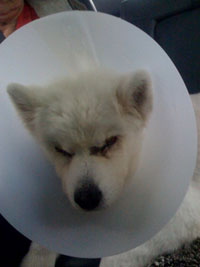 He had plenty of tail wags for his foster parents when they picked him up. He's a sleepy boy, but he's happy to be back in his foster home where he'll receive plenty of TLC as he recovers.
Way to go Phoenix!!!
~ Chloe