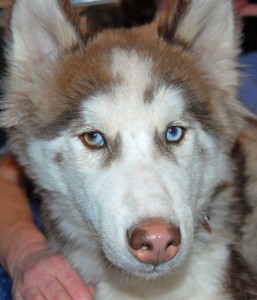 Congratulations Tundra!!
Tundra is a friendly, red and white Siberian puppy that is 6.5 months
old. He is the new kid on the block and we are enjoying getting to
know him. He came into rescue when the other dogs in his home did not
get along with the little fellow. Tundra was fine with them, but they
wanted no part of a puppy. It was a heartbreaking decision, but it
was felt best that Tundra come into rescue and find a new home where
he would be happy and safe.
Tundra is an extremely affectionate boy, he loves to crawl in you lap
and cuddle with you. At this time he is rather shy with rest of the
rescue pups, but we see his personality emerging as he gets to know
his canine friends.
Tundra will be in rescue for a minimum of two weeks so we can get to
know him and be better able to place him in a wonderful home suited
for him. Stay tune for updates!