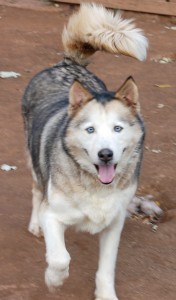 Age: 10 Yrs
Sex: Male
Size: Large
Congratulations Guy!
Guy is a handsome "husky" Siberian Husky thought to be about 10 years old. This poor guy was a victim of neglect; he thought he had finally found a family to call his own. Sadly, when Guy was due for a bath his people preferred to tie him up outside. Guy was very unhappy and confused ~ What did he do that was so wrong as to be banished from the ones he loved? He was out in the elements, alone, for a year.
Guy was fed well (obviously), however, food was not what he yearned for, it was to be back in the house with his family where he belonged. Guy is now with us and is enjoying socializing with the other dogs and can't get enough attention from people, the poor boy is just starved for companionship and love.
Guy has started a diet to slowly remove some of those extra pounds. Now that he can play and be walked, we have no doubt he will slim down and be a much happier boy. He is good on a leash for a husky and is quickly becoming one of our favorites.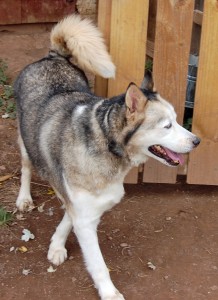 If you are looking for a companion to be by your side, who is rather low-keyed and just happy to be with you, please consider Guy, he would love to meet you and he might just be the perfect fit!