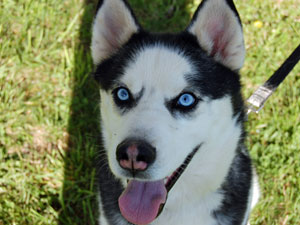 Age: 2-1/2 Years
Sex: Male
Size: Average
Congratulations Malachi!!!
Malachi is the new kid on the block. He's a handsome black and white boy with amazing blue eyes. Malachi is a very friendly boy who is full of Husky energy!
We recommend that Malachi be placed in a home with older children only. Another dog his size or larger would be great to help this active boy spend some of his energy.
We are enjoying getting to know Malachi ~ stay tuned for further information!