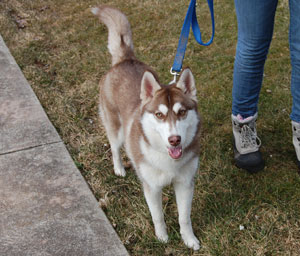 Age: 6 Months
Sex: Female
Size: Average
Congratulations Mila!!!
Mila (me-la) is an adorable 6 month old red and white Siberian puppy that will surely charm you. Her mom had a job opportunity that she needed to take. Unfortunately, that left Mila alone for long days. Her mom loved her so much that she put Mila's needs first and asked us to find her a good home where she would not be alone for so long.
Mila is well behaved for a puppy. She is, however, known to give into Siberian antics and needs a warm, loving home where her training will be continued in a positive manner. She is a smart girl and has already graduated puppy training. She knows sit, down and paw.
Mila has a LOT of energy and will do best in a home with another active canine playmate and an active person that likes to go for walks. She is crate trained, housebroken and trustworthy in the house while people are home and watchful. She is, of course, a puppy and will find mischief if left to her own devices.