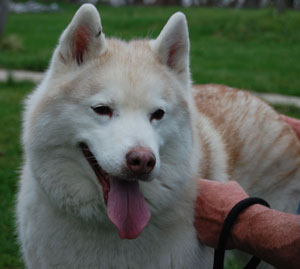 Age: 6 Years
Sex: Female
Size: Average
Congratulations Cassie!!!
Cassie is a stunning red and white Siberian with a personality to match. We fell in love with her as soon as we met her. Cassie was a stray and we are baffled that she was not found by her people, she obviously was a very cared for pet.
Cassie is estimated to be 6 years old ~ she is calm and loving and also frisky with the other pups; the perfect age. She is housebroken and trustworthy in the house. She is wonderful in the car, enjoys walks and just hanging out. She becomes attached to her people quickly and enjoys following them around and napping near them. She loves attention.
Cassie has settled into her foster home and is enjoying life. She is ready for a new home where she can love and belong ~ perhaps yours?
[smooth=id:165;]