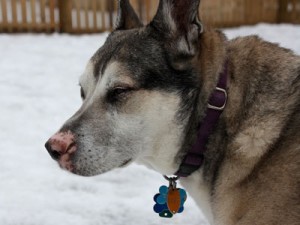 On January 16th, our beloved Daisy sadly lost her battle with bone cancer.
Daisy had been with MaPaw for almost 2 years having been abandoned at a shelter when her family moved and left her behind. At the age of 14 years, she was confused and longed for her family. When the shelter contacted us, we quickly made arrangements to bring her in.
It didn't take long for her to get comfortable and make herself at home. Soon, her personality and the attitude we all came to love started to shine through. Nicknamed the "Tank", Daisy would make her way through without concern of what was going on around her or what she was walking through.
When she was first diagnosed we were devastated, but we knew we needed to make her as comfortable as possible and make the most of the time we had left with her. Near the end, she spent her time resting on blankets and wrapped in towels that were fresh from the dryer. Her canine friend, Chloe, laid next to her most days keeping her company.
She became very tired and her movements became painful for her. That's when we realized that she was letting us know it was time. Surrounded by love and showered with tears, Daisy passed peacefully and quickly.
Daisy ~ Wear your silver harness proudly as you dance among the stars, free of pain. You are an amazing soul and you will be greatly missed by all who were lucky enough to know you. You have left your paw on many hearts and we mourn our loss, but celebrate your life.
We love you Daisy!
~ Scout