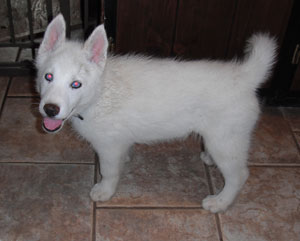 Age: 10 Weeks
Sex: Male
Size: Small Now, But Getting Bigger Every Day!
Congratulations Shiloh!!!
Click here to check out my video on YouTube!
Shiloh is a male ten week old puppy that is the new kid on the block! This white, blue eyed bundle of fur and energy is settling in with his foster home and becoming familiar with his puppy routine – crate training, housebreaking and socialization with the other pups and people.
Shiloh will need to be placed in an active, sibe-savvy home preferably with another active Siberian or dog and fenced in yard to play in. Due to his young age he cannot be alone for more than four hours. He is a very active, mischievous boy and lives up to the Siberian puppy name. His forever family will need to commit 100% to training and patience ~ a sense of humor is a definite plus for this little cutie as well.
[smooth=id:109;]