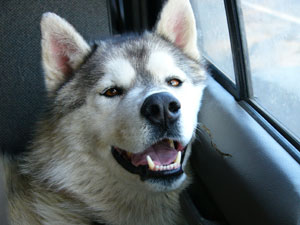 Age: 10 Years
Sex: Male
Size: Average
Congratulations Sebastian!!!
Sebastian is a stunning gray and white ten-year-old male Siberian Husky. He was originally rescued by his family in Arizona and has been a beloved member of their family for 8 years. Sadly, their jobs take them overseas at the end of July and Sebastian needs to find a loving home.
Sebastian is a kind hearted and bright boy who is very musical. He loves to sing along with you if you play a harmonica or a squeaky toy. He has always been closely cared for by his vet and did have an ACL surgery a few years ago. His back left leg will get a bit crampy if he walks too long. He does love to walk though ~ you just have to pace it.
Sebastian loves to travel and enjoys long road trips. He was the family's backseat driver all the way to Alaska last summer and loved it! He is very friendly with children of all ages, but no cats please.
Sebastian is looking for a family that will love him as much as he will love you. He is past the destructive puppy stage and has so much more life and love in him. Do you have room in your home and heart for this sweet boy?
[smooth=id:111;]