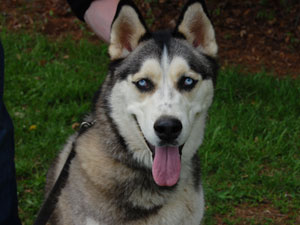 Age: 1 Year
Sex: Male
Size: Large
Congratulations Dozer!!!
Click here to check out my video on YouTube!
Dozer is a very handsome one year old male Siberian with penetrating blue eyes that is all about FUN ~ this boy wants to play, play, play!
Dozer became unhappy in his prior home without another active canine companion to play with. He became frustrated and started breaking out of his crate and trying to dig out of his fence. His current MaPaw foster home has another Siberian his age and they are playing non-stop. We have seen no signs of any anxiety. A tired husky is a good husky. He is a bit of a "chunky monkey", but those extra pounds are shedding fast with his increased activity.
Dozer fancies himself as a lapdog and loves playtime, walks and swims in secured areas. He is a typical husky and is quite adept at counter-surfing, digging and chewing. He will need to go to a home with a sturdy six foot fence and an active puppy pal to keep him entertained.
The perfect home for Dozer will be an active family with another young husky or active medium to large dog he can play with and exercise and then hang out for quality time with the entire family.
[smooth=id:105;]