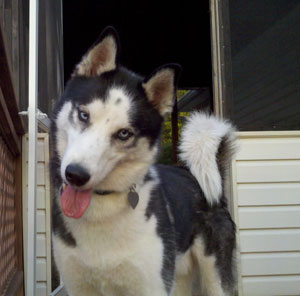 Age: Approximately 2 Years
Sex: Male
Size: Average
Congratulations Ozzie!!!
Click here to check out my video on YouTube!
Ozzie is a striking black and white 2-year-old male Siberian with brilliant blue eyes that has made so many friends and admirers in our rescue. He came into MaPaw last fall ~ full of fun and spunk. If there was fun and mischief happening, Ozzie was no doubt involved and enjoying every minute.
Ozzie is a Siberian youngster that is very intelligent and he has matured nicely. He is an affectionate boy that has become a wonderful pet and excellent companion. He is great with people and loves his crate.
Ozzie is good with other dogs his size or larger, however, cannot be around smaller pets or cats. He should be in a home with another active canine companion and a secure six foot fenced-in yard to play in.
It's a joy having Ozzie in rescue, yet we want to find him his perfect forever home where he will belong and be part of the family. Someone is going to be very lucky and have a wonderful new best friend that will love to hang out with them and share the good times. Could this be you?
[smooth=id:80;]