Age: 18 Months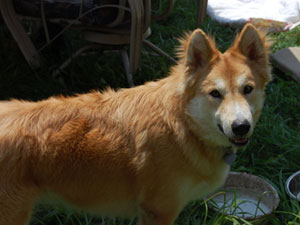 Sex: Male
Size: Average
Congratulations Mason!!!
Mason is a handsome and happy Siberian Husky/Collie mix that is approximately 1.5 years old just waiting to be someone's new best friend!
This young man is a joy to be around ~ He is the perfect size (60 pounds), great with kids and loves other dogs his size and larger. He is crate trained and housetrained and knows his basic commands. He is truly a good ambassador in his foster home and just loves everyone.
Mason loves to carry on a conversation with anyone interested in his opinions and will bark briefly to alert of any newcomers at the door or on the property. He is good on a leash and he just loves to cuddle – perfect for those upcoming cooler nights!
If you are looking for a companion that is sure to make you smile, Mason may be the perfect match for you!
[smooth=id:134;]