Hello Puppers ~
Ben was finally discharged from the hospital yesterday and is happy to be home. The doctor and staff at Schwenksville Veterinary Hospital were amazing with the surgery and Ben's aftercare. They wanted to make sure that Ben was able to find his center of gravity and keep his balance to walk about. They kept him an extra 2 days so that they could work one on one with Ben to make sure that he was able to get around without injury. While Ben is still having difficulty getting around, he's getting better at it each day.
Here's a photo of him hanging out with his furry siblings ~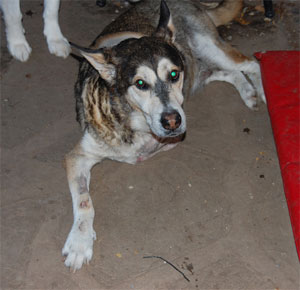 We're so proud of Ben for being so strong throughout this ordeal. He really is a special guy and we are looking forward to spoiling him. Amazingly, he enjoys wearing his t-shirt ~ it's to protect his sutures, but he thinks it's a fashion statement… And he loves chilling in his "apartment" as long as there is a human near to talk to him.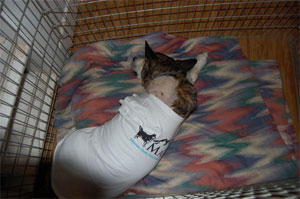 Please keep Ben in your thoughts.
Welcome home, Ben!!!
~ Chloe