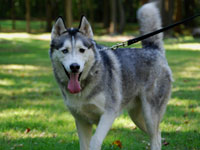 Age: 4 Years
Sex: Male
Size: Average
Congratulations Cerebeus!!!
Click here to check out my video on YouTube!
Cerebeus is a four year old male husky looking for love and a permanent home. Sadly, this handsome gray and white bi-eyed Siberian must say goodbye to his current family due to hard times. They are so sad and will miss him, but we have promised to find a wonderful new family for Cerebeus to love.
Cerebeus is a smart boy ~ he knows Sit and Lay Down. Typical of a husky, he can be "too" smart and knows how to push and pull open, unsecured doors. True to his breed, he is an escape artist and will need a home that is secure and "husky proof".
Cerebeus is a high energy dog and can be an alpha. He can be very enthusiastic and needs some continued guidance and training. He loves to go for walks and will be best in an active home with a lot of exercise to satisfy his energy. If you are up for the Siberian challenge and ready for a new best friend, please ask more about this great guy.
[smooth=id:36;]