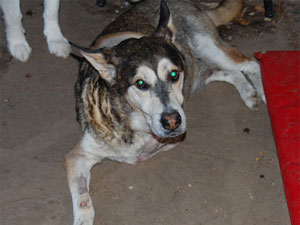 Age: 10 Years
Sex: Male
Size: Large

Our dear Ben has lost his battle with cancer. In the last week, his health had quickly deteriorated and it was clear that he was ready. He passed quickly and peacefully, surrounded by those that love him.
Ben ~ wear your silver harness proudly, dear friend. Dance among the stars, free of pain. It was a privilege to care for you and an honor to know you. Until we meet again…. ~ 3.29.2011
---
Click here to check out my video on YouTube!
To know Ben is to love him ~ Everyone falls in love with this big, goofy guy with those huge ears and oh-so-expressive eyes. Just being in the same room with Ben makes you smile. He loves everyone and isn't shy one bit about clowning around and demanding attention.
Ben had a secret that he was trying to hide, however, when our happy guy began limping and crying in his sleep, we knew immediate medical attention was needed. It was a very sad day when consultation and x-rays confirmed our worse fears ~ ten year old Ben had an aggressive bone cancer that had consumed his front leg to the point the weight bearing bone could fracture at any time.
To ensure the limited time Ben has left with us is quality time it was decided the best course of treatment for him was to amputate his front leg. Ben has amazed us with his progress in learning to adapt to three legs ~ he has even learned how to do stairs to share his foster parents' bed on the second floor, under close supervision of course.
Sadly, this operation will not extend Ben's life, but it warms our heart to see him happy again and doing so well. He may only be with us for six months, it may be more, but each and every day he will be spoiled and we will enjoy his antics and embrace his love.
[smooth=id:34;]