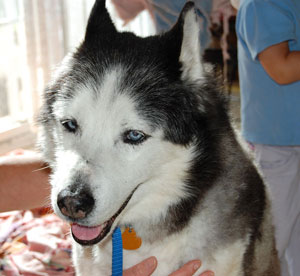 Chi (Chee) is a sixteen-year-old Siberian that was turned into a crowded shelter after a lifetime of companionship and devotion. His eyes had no hope; he was filthy, matted and unable to walk from neglect. Chi had been tossed away by those who should have loved him.
Chi was welcomed in with open arms and tears in our eyes. He was placed into our Husky Hospice Program and we promised him that he would be loved and cared for. He was given a nice comfy bed, good nutritional food, supplements and plenty of TLC. His coat was matted so badly with parasites and dried urine that much of it had to be shaved away in sections. A sling was used to help him walk.
Chi is slowly improving. He now walks unassisted and isn't shy about coming up and nuzzling for some attention. He is still extremely underweight, but the shine has returned to his eyes. Chi knows he is loved.
Our foster mom named him "Chi", the term for universal energy or the energy that permeates everything around us. It fits him well.
Please check back for updates on Chi. He will remain with us for as long as he has quality life and will be pampered, loved and spoiled. Our Husky Hospice is a quiet side of our rescue dedicated to caring for the Siberians that cannot be adopted.
If you would like to make a donation toward Chief's care, please do so via the Google Donate button located below Chief's photo. We greatly appreciate your support!