Good evening Puppers ~
Do you guys remember Kye? He's the handsome bi-eyed boy that was adopted from MaPaw in August. Shortly after he joined his new family, they decided that they wanted to adopt a sibeling to join Kye. Of course, they wanted to wait until Kye got settled and comfortable in his new home.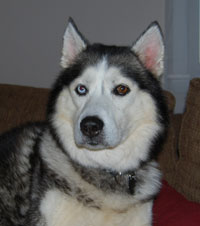 I mean, let's face it ~ we Huskies are pretty darn cool and fun so it's hard to only have 1 in the family…
Once Kye was comfortable with his new home and routine, his family started visiting MaPaw's site looking for a new sibeling for Kye. When they saw Miss Nika, they knew they had to meet her. How can you resist someone this cute???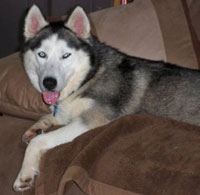 Shortly before Hike N Howl 2009, Nika's foster Mum took her to meet Kye and his family. After a little while, these 2 pups started to play. By the end of the meeting, they both had big ol' Husky smiles!
Just a little bit after, Kye and Nika brought their family to the Hike. They hiked to help us raise funds for other pups like them that need the rescue's help.
Nika has certainly become comfortable in her new home. She spends her time chasing her new bro and sometimes letting him chase her…
Congrats to Kye, Nika and their family! We look forward to plenty of pics and updates!
~ Chloe