Our handsome redhead, Dakota has found his furever home!!!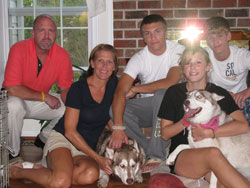 Dakota is a very special boy and he has waited a long time to find the perfect home. He needed to find a family that understood his shyness and was ready to help Dakota come out of his shell once he settled into his new home. Luckily for him, the wait paid off!
We are so grateful to Janet and her family for giving Dakota the chance to be a part of their family. We have already received a couple updates from his new family and he's doing well. His new family realizes that it will take Dakota time to get totally comfortable with his new surroundings and they are giving him the space and encouragement he needs.
We are so proud of Dakota! He has certainly come a long way since we first met him. We know that he will continue to grow with his furever family. We look forward to more updates!! Congrats to Dakota!!
~ Chloe